April 13, 2018 Recognized as Muslim Legal Holiday for Izra Wal Miraj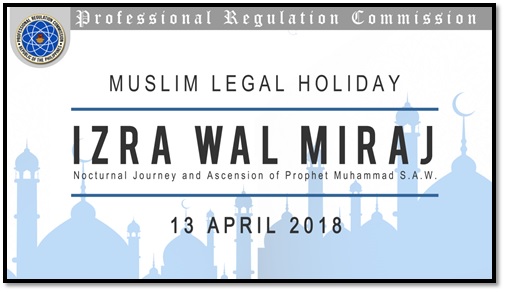 In line with Presidential Decree No. 1083, also known as the Code of Muslim Personal Laws, all Muslim government officials shall be excused from reporting to office on 13 April, 2018 in observance of "IZRA WAL MIRAJ" or the Nocturnal Journey and Ascension of Prophet Muhammad S.A.W. The said Muslim event is recognized as a Muslim Legal Holiday, which corresponds with the Islamic Calendar as the 27th of Rajab, 1439.
To know more about this observance in detail, you can view the complete Memorandum from the National Commission on Muslim Filipinos here.